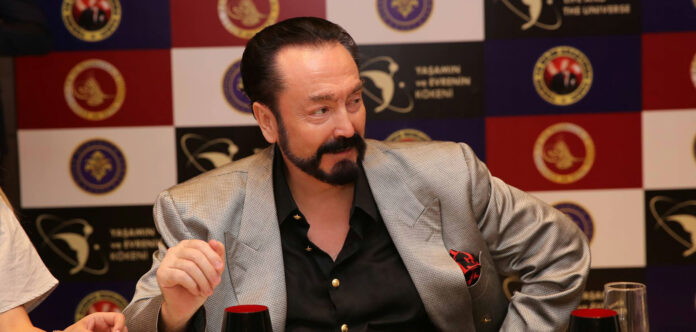 Mr. Adnan Oktar, aka Harun Yahya, is a worldly renown Turkish author and man of ideas who has penned more than 300 books. He was appearing daily on his TV show on A9 television, reaching millions in Europe and the Middle East through satellite broadcasts in Turkish and simultaneously in other languages. He encourages peace and love between different faiths and nations. He advocates human rights, superiority of democracy, freedom of speech and faith. He advises women to be active in social life, and supports them in their free choices as to their clothing and lifestyle. He, as a Muslim, has hosted prominent figures of Christian and Jewish faith in his live TV show. He intellectually struggles against all kinds of racist and discriminatory ideas, including anti-Semitism.
He was born in Ankara in 1956. After high school, he entered Istanbul's Mimar Sinan University, faculty of fine arts in 1979 coming in third from among thousands of candidates. He also studied at the department of philosophy at Istanbul University. Mr. Oktar, a talented artist since childhood, paints surrealist pictures from time to time and gives away a large number of his paintings as gifts to friends. In addition, he numbers animals, plants and flowers among his spheres of interest, as well as horticulture, interior design, and décor.
The First Smear Campaign and Torture in a Mental Hospital
In the mid-1980s, his intellectual activities and books began to elicit reactions from some circles. In the summer of 1986, Adnan Oktar was arrested, with no rightful legal ground whatsoever, for having stated, "I am a member of the Turkish People, and of the Nation of Ibrahim," in an interview carried by a newspaper. Deceitful reports, groundless information and slanders about him began appearing in various publications.
Adnan Oktar was first arrested and imprisoned. He was confined in a one-man cell for nine months. He was then chained by the foot to a bed in the Forensic Medicine department for 40 days. He was then transferred to the Bakirkoy Mental Hospital on the grounds of being mentally unhealthy and placed under observation in ward 14A, poorly maintained, filthy, and used to house the most dangerous inmates. Ward 14A, which housed 300 mental patients, was in a stone building left over from the reign of Sultan Abdul Hamid and could be entered only by passing through a number of locked iron doors, since killings among patients were viewed as nothing out of the ordinary. During Mr. Oktar's time there, seven murders were committed. In addition, he was forcibly given drugs blurring consciousness. Those who managed to visit him witnessed that he had lost none of his determination and enthusiasm at this time. Postgraduate students, nurses and even doctors were prohibited from seeing him, out of concerns that they would be influenced by his ideas. Shortly afterwards, his relatives and friends were also banned from visiting him, and even telephone calls were forbidden. He was threatened with spending the rest of his life in the hospital unless he abandoned his intellectual activities. Certain circles strongly suggested that if he ceased his activities, he could immediately be released from hospital and spend the rest of his life in comfort. Financial incentives were also offered. But he rejected all these offers, refusing to bow to the threats and pressure that only enhanced his determination.
After Oktar had been detained for 19 months, the Prosecutor's Office determined there was "no offence in the statements uttered." He was declared innocent and released.
The Gulhane Military Medical Academy (GATA) issued a report confirming Adnan Oktar's SANITY. After being depicted as mentally ill for 20 years, a Military Hospital report confirmed that he was completely sane, however, it was never once mentioned by the press.
Cocaine Conspiracy
In 1991, Adnan Oktar was detained in Izmir where he was together with a few friends, then transferred to the Istanbul Security Directorate, and after 72 hours, was sent to the Forensic Medicine Institution for drug testing. It was announced that Adnan Oktar's blood showed a high level of a cocaine by-product.
However, all the evidence submitted later showed that this was nothing more than slander; and that the cocaine allegedly found in Adnan Oktar's library was also another part of this conspiracy. Shortly before the arrest, he had felt that secret moves against him were afoot. Leaving his home in Ortakoy he called his mother Mediha Oktar to warn her of a likely plot against him and asked her to clean and search his house with a few other people as witnesses. His mother called her neighbor and janitor, and together they cleaned her son's home from top to bottom, dusting all the books in his library. Although Adnan Oktar did not return after that cleaning, 16 police officers carrying out the search operation "found" a packet of cocaine among his books as soon as they entered the house. The neighbor and janitor later made a sworn statement, saying jointly that "We cleaned Adnan Oktar's library together, and there was no such packet there."
The second phase of the conspiracy – the cocaine by-product in Adnan Oktar's blood – was refuted by scientific and forensic evidence. Adnan Oktar was kept in the Security Headquarters for 72 hours before the analyses were performed. Scientifically, it can be calculated how much cocaine a man has taken and how many hours before by measuring the cocaine by-product in his blood. In Adnan Oktar's blood, that level was so high that had he taken that much cocaine 72 hours before, it would have killed him. This showed that the cocaine had entered his body much sooner, by being mixed with his food while he was in detention.
This was confirmed by some 30 international forensic medicine institutions, including Scotland Yard. To the file sent to them for examination, all gave a common response: The cocaine had been administered while Adnan Oktar was in detention by being mixed with his food.
Subsequently, the Turkish Forensic Medicine Institution confirmed that the incident was a conspiracy, that the cocaine had been administered during the detention period, and Adnan Oktar was acquitted by the court and released.
However, this incident revealed that forces hostile to Adnan Oktar intended to employ all kinds of dirty tricks. These forces, who previously sought to intimidate Adnan Oktar with prison and oppression, keep conspiring against him.